Family histories
A number of organisations have been set up in Canada, often with strong links to the United Kingdom, to provide a way for Home Children and their descendants to communicate and to help research family histories.
Two of these who have particularly helped in this exhibition are Home Children Canada, set up by Dave and Kay Lorente in 1991, and Quarriers Canadian Family, established in 1996.
Home Children Canada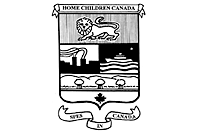 George Barter, Home Boy from Barnardo's died in 2000 in his 102nd year. Five years previously Dave Lorente of Home Children Canada videotaped his reminiscences. At that time he had 55+ grandchildren, 65+ great grandchildren, and even great great grandchildren. To quote Dave Lorente: "We make believers out of people who doubt that Home Children and theirs descendants make up 11% of the population of Canada. We tell them that George did most of it himself!" At his wake, his family played Dave's recording of their patriarch.
Home Children Canada's coat of arms (above) was commissioned by Lizzie Smith, proud daughter of a Home Boy who was well received in a Francophone community. The elements of the emblem are: a lion, representing the United Kingdom; the industrial silhouette to indicate the environment from which many of the children came; the ship to show the means of travel (guided by a star of good hope); the sheaves representing the promise of Canada and freedom from starvation. The motto is '(Our) hope is in Canada'.
It is expected that a commemorative plaque will be unveiled at the former Stratford Receiving Home for Home Children in Stratford, Ontario this summer. The Historic Sites and Monument Board of Canada have recommended that Home Children be designated an event of national historic significance: 'the late 19th and early 20th century immigration of Home Children is of national historic significance in it's relation of attitudes towards childhood and the critical role child labour played in the pre-welfare state, and in it's influence on changing social policy in the areas of social welfare, child labour and immigration.'
Quarriers Canadian Family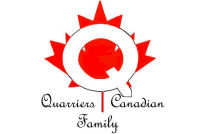 Quarriers Canadian Family was established in Kingston, Canada 1996.
Not all Canadians know the full facts, nor indeed the scale of child migration to Canada. Many do however, and have mixed emotions:
Sadness for the plight of children who were removed from their homes and families, not always voluntarily, to a sometimes harsh environment many thousands of miles away.
Frustration that it has taken so long for both the British and Canadian governments to recognise the importance of this key element in Canadian history.
Anger that it has proved difficult for many Home Children and their descendants to trace family histories.
A measure of disbelief that child migration happened: that the children fell through the cracks of the social services systems of the time and that the story was suppressed by governments for so long.
Pride in what the Home Children achieved and their importance in building the Canadian nation. To quote Home Boy, Art Monk: 'Proud to be a Home Child, but prouder still to be Canadian'.