Social Work


Voluntary Assistance

Core Screen Assessment
All short term prisoners undergo a prison core screen assessment during the induction process and may be offered access to programmes and interventions within the prison. Prison based social workers are involved in the induction process and will then provide information and advice about the social work services and the availability of voluntary assistance on release.
The Core Screen interview will be carried out by an SPS officer and the data will be recorded on their electronic database, Prison Records 2 (PR2) within the Community Integration Plan (CIP) screen.
PR2 is an estate wide database on which the details of all prisoners are recorded. New screens have been developed to support the ICM process, in particular facilitating referrals to other service providers. The outcomes of the referrals, action plans, case conference minutes etc are also recorded. Prison based social work staff will have access to all these details and will be able to input data directly onto the system.
The purpose of the Core Screen is to identify any immediate needs as soon as possible in order to make the appropriate referrals to service providers and to have the best possible plan of action in place. , This is especially important for the very short-term prisoners.
Service providers (e.g. Addictions or Learning) have the responsibility for delivering the action plan and updating the CIP on PR2 with all outcomes.
Prison based social workers will be able to provide advice to prisoners who wish to receive voluntary assistance post release. They may also undertake work around child/family/child protection and offending related issues.
Advice regarding accommodation, employment and educational opportunities and addiction problems can also be accessed through the service providers at the SPS Links Centres.
Case Study: Jamie Smith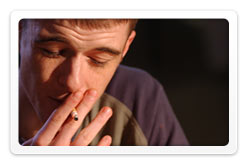 You will find below extracts from the Social Enquiry Report provided for Jamie's court appearance which is linked to the short video of Jamie talking about himself.
In the Set Up Support section of the map you will also find a copy of Jamie's "going straight" contract together with an appointment letter from his supervising officer.
As an optional exercise you may wish to make your own assessment of Jamie's criminogenic needs and try completing a "going straight" contract for him.
Case Study Files
Case Study Video (Download Versions)*
* If you experience difficulty in downloading files, right-click on the download link and select "Save Target As…" from the resulting pop-up contextual menu.
Jamie talks about himself