Introduction
As part of the Imagining the Future project, IRISS invited nineteen people who believed they would have leadership roles by 2025 to come together as a 'temporary leadership team of the future'. The group spent three days together at Loch Lomond, immersed in the four scenarios, exploring systems leadership theory and ideas. Delegates came from a mix of background and the group was balanced, with representation from the statutory sector, independent sector and the third sector.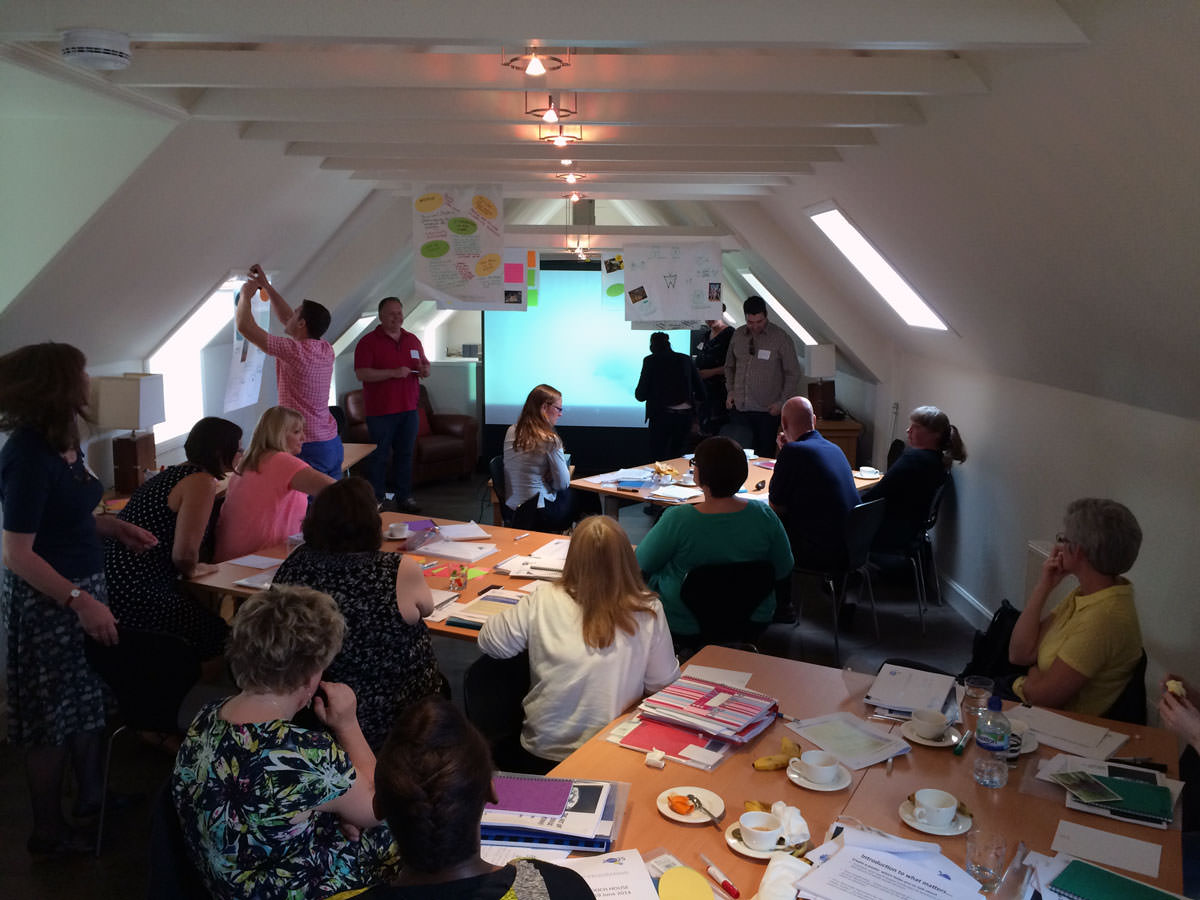 As a tool, the scenarios were used to enable the group to consider the challenges and opportunities they may face as leaders within their organisations and how they might prepare to meet uncertainty. Indeed, they were able to think about the nature of leadership in 2025.
This was supported and underpinned by leadership theory which drew heavily on thinking from whole systems and complexity theory alongside models of adaptive and collaborative leadership. For example the leadership programme drew on the thinking of Margaret Wheately - working in complex systems and taking up the role of leader as host; Rittell and Webber - distinguishing between different types of problems eg Wicked and Tame; the work of Keith Grint who developed the notion of critical and messy solutions in relation to leadership authority; and the work of Ralph Stacey who distinguished between different leadership and management approaches depending on the extent of ambiguity and certainty in the environment and in the leadership task.
These approaches and the leadership practices associated with them were thought to be useful for leaders in relation to the scenarios, set in 2025, in the context of:
An assumption that all human services organisations (for example, social services) can be understood by using a living/social systems frame of thinking rather than a mechanistic frame. In this context there will be multiple, perhaps contradictory perspectives in relation to planning and problem solving; leaders will be required to take account of values, assumptions and beliefs in order to progress their work (Heifetz) and will need to work creatively across organisational and community boundaries in order to generate a future world which works for the whole system.
An uncertain and unpredictable future in which change is constant and in which new knowledge is emergent (That is, knowledge cannot be planned; it needs to be discovered). This aspect of living systems shifts our understanding about what is possible and points to the necessity of a different kind of leadership based on learning about what we don't know and on asking questions which surface meaning rather on leadership which "knows" and provides answers. In the context of health and social care this makes planning for the future challenging but also exciting in that any solutions to our current and predicted challenges will need to flex and adapt to the new knowledge and circumstances that constant change brings.
A complex and interdependent health and social care system. In this context relationships matter and the ability to build relationships, make connections between seemingly irreconcilable perspectives and expand what's possible will be essential leadership practices. Leaders working in this kind of environment will be more able to manage the dilemmas of complex issues if they are able to suspend the desire to fix their problems and instead can work collaboratively, one conversation at a time, to progress their shared aspirations for change.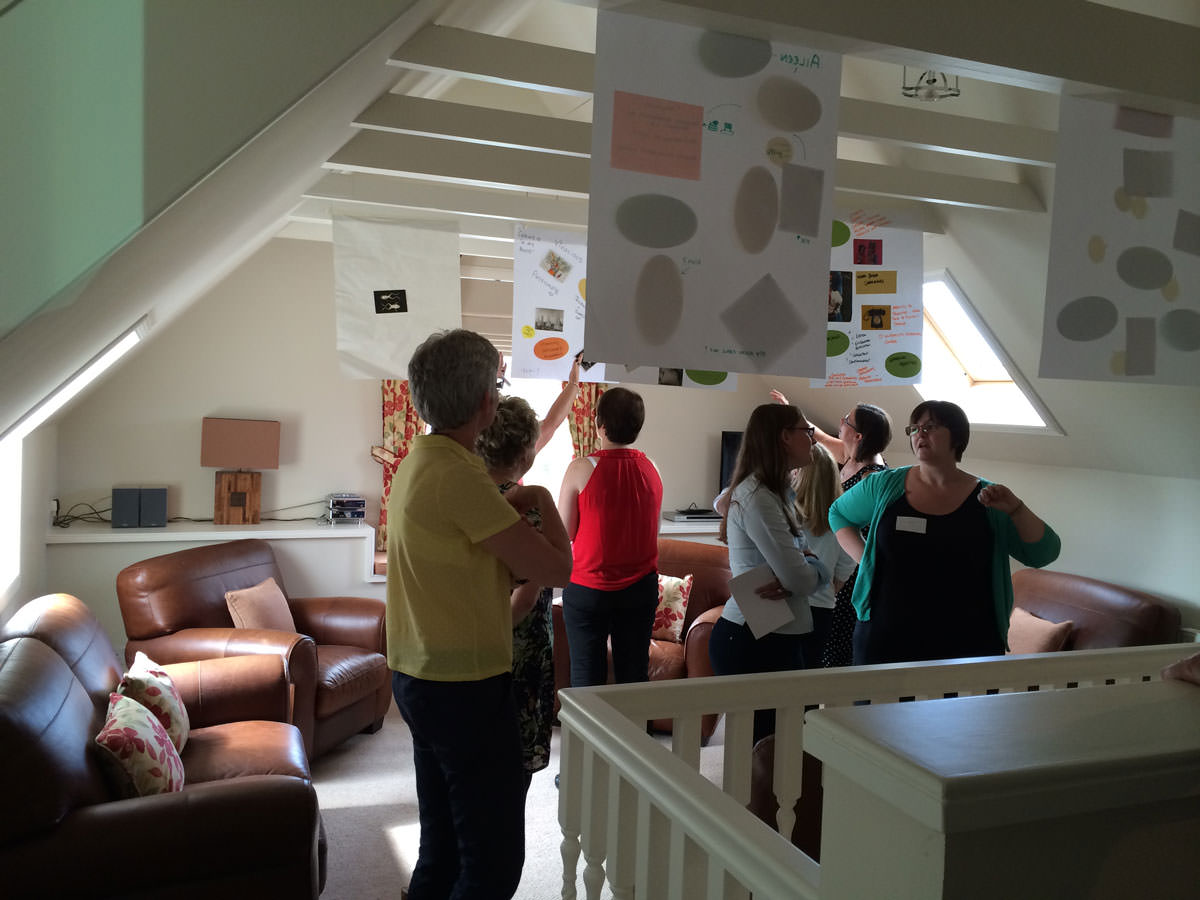 These aspects of systems thinking and leadership practice were built into the programme and explored as both theoretical concepts and practical tools for change. These are reflected in participants understanding of their current and future challenges as well as their application of learning about how to build a new future for social services and communities in Scotland.
By the end of the three days, each 'future leader' had developed an individual, or group, BIG experiment to try out in their own day-to-day roles within their own organisations. Four months on, delegates reflect on what they have learned along the way as leaders, for their organisations, and for social services more generally.
The BIG experiments covered a number of specific themes and areas within social services:
Embedding an outcomes focused approach to working with service users
Demonstrating the value and impact of making better use of facilities for improving outcomes for individuals and communities
Integration of occupational therapy services
Considering organisational restructuring
Supervision using 'outcomes Star' and leadership capabilities
The concept of citizen leadership Increased dispersed leadership within teams
Collaborative leadership - many languages, one message
Community leadership
Embedding leadership values and qualities in all levels of the organisation
Supporting outcome focused care support plans