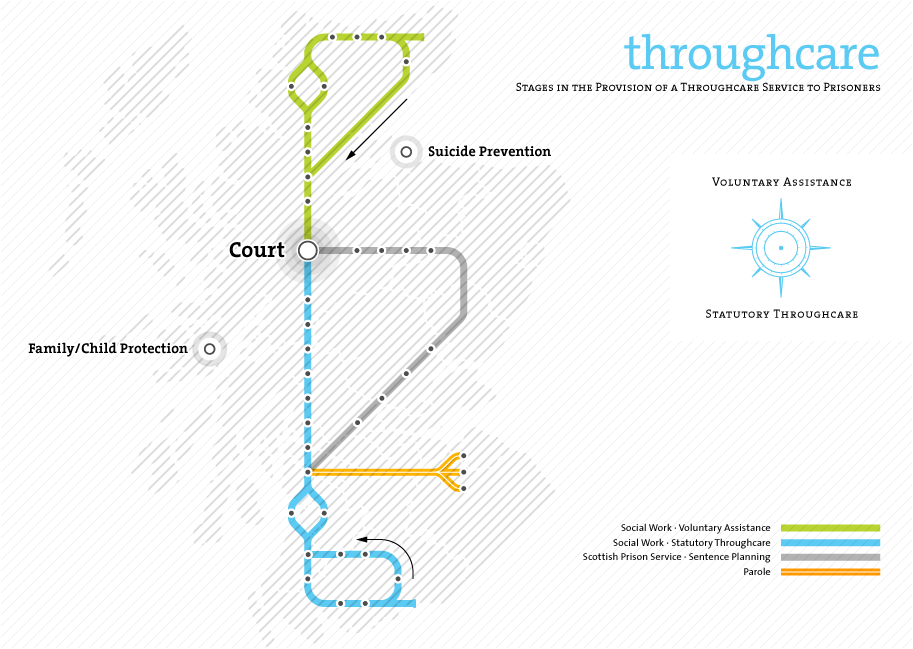 About the Throughcare Map
The large button at the centre of the diagram represents the Court and is the starting point of the Throughcare Map. The four coloured 'lines' radiating out from the Court provide information about Voluntary Assistance, Statutory Throughcare, the joint Scottish Prison Service/Criminal Justice Social Work Sentence Planning process and prisoner Parole. Flanking the Court button are buttons representing Suicide Prevention and Family/Child Protection, which apply to all aspects of the throughcare process.
You can access the headings for each stage of the Throughcare process by moving the cursor over the buttons. Clicking on the buttons will reveal descriptions of the social work contribution at each stage, with access to relevant extracts from National Objectives and Standards, Scottish Executive Justice Department Circulars, a list of associated tasks, and where appropriate suggested tools, resources and possible contacts/consultants.
In addition there are fragments from three fictional case studies with videos of interviews with prisoners, examples of reports, risk assessments etc and optional exercises to help you think about how you would contribute to the delivery of a throughcare service.